22nd March 2019
The Student Voice is a glance into the experiences of students from all over the world who have studied with us at Celtic English Academy, here in Cardiff. These testimonials are a first-hand reflection of the impressions left on each student from their time at our academy in the capital city of Wales.
At Celtic English Academy we value our students' feedback and their opinions, always using them to refine and improve the experiences of our future students.
Here is what our lovely Italian group had to say about their experience:
Group Leader Names:

Graziela and Barbara

Ages of the group:

15-

17
Nationality:

Italian

Duration at the Celtic English Academy: 1 week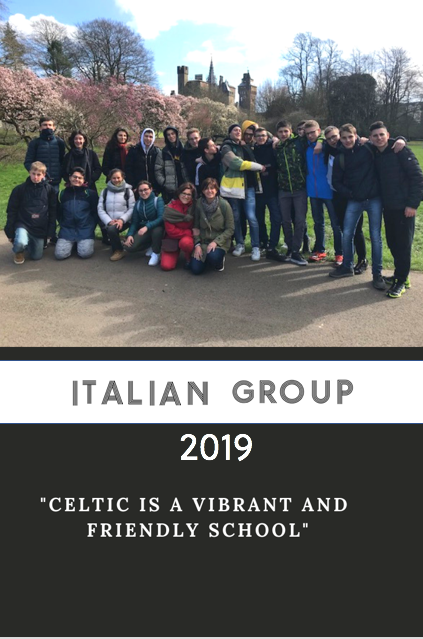 What do you like about Cardiff and Celtic English Academy?
Young, enthusiastic and passionate teachers. International and multicultural environments students have the real chance to speak. As for Cardiff; it's a pretty town, very young and relaxing, easy to move around, nice people.
What was your favourite lesson or social activity?
As a group leader and teacher, I've appreciated that they've had both grammar/vocabulary etc.. lessons and speaking activities and the amount of hours in this course.
What is your favourite memory?
Visiting the Castle of Cardiff and Cardiff Bay.
Would you recommend Celtic English Academy to your friend and family?
Yes, definitely. Because it's a vibrant and friendly school, with high standards.
Would you recommend a group programme with Celtic?
Yes
---
For more student voices, you can read Celtic English Academy testimonials from our students from all over the world.