At Celtic English Academy we value our students' feedback and their opinions, always using them to refine and improve the experiences of our future students.
Here is what Coraline from France had to say about her experi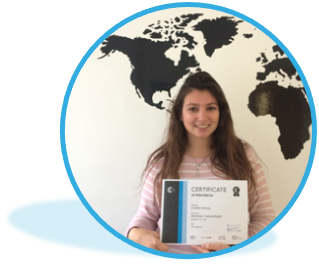 ence:
Name:

Coraline
Age: 23
Nationality: French
Duration at Celtic English Academy: 2 months
Course: General English
My Experience at Celtic English Academy !
In French
Mon nom est Coraline, j'ai 23 ans et je vis en France.
Aujourd'hui je souhaiterais vous parler de mon expérience linguistique que j'ai vécu à Cardiff ces deux derniers mois.
Je sais l'importance que ca à de pouvoir lire, commenter et donner son avis sur son expérience qui servira à certains d'entre vous. J'espère surtout que mon parcours vous aidera et vous encouragera à partir et étudier à Cardiff aux Pays de Galles.
Depuis plusieurs années, j'ai été détectée comme dyslexique, dysorthographique et dyscalculique ce qui ne m'a jamais vraiment aidé dans mes études et dans l'enseignement d'une seconde langue.
Comme beaucoup de francophone le savent nous n'avons malheureusement pas la meilleure méthode pour étudier une langue étrangère au sein de notre système académique français et sommes limités à peu d'heure par semaine pour étudier l'anglais,ce qui a été un frein pour moi.
Toutefois, j'ai décidé de faire de cette difficulté une force en me prouvant à moi même que j'en étais capable.
J'ai donc décidé de travailler dur afin d'obtenir mon diplôme d'éducateur/moniteur pour les personnes ayant des difficultés physiques ou mentales. Après l'obtention de ce dernier je me sentais encore plus forte pour continuer dans cette voie.
J'ai toujours aimé travailler avec les gens et le contact est pour moi essentiel dans mon avenir professionnel. C'est pourquoi, à la suite de mon diplôme j'ai commencé à travailler en temps que saisonnière dans divers métiers de services, j'ai adoré ces expériences, toutefois, une chose me manquait afin d'être à l'aise dans mon travail, l'anglais !
Nous savons qu'à notre époque actuelle peu importe le travail recherché l'anglais est indispensable.
J'ai donc décidé de me donner la chance d'étudier l'anglais à l'étranger. Sacré challenge quand on est loin de sa famille, ses amis, son petit "cocon" si je puis dire et bien sur mes difficultés qui s'y ajoutent et pourtant rien n'est impossible!
– Qu'est ce que tu aimes à propos de Cardiff et de Celtic English Academy ?
En toute transparence, j'ai décidé d'étudier au sein de la ville de Cardiff dû au faible coût que cette dernière offrait.
En effet, si l'on compare à certaines autres villes au Royaume-Uni, comme Londres, Cardiff est 40% moins chere que celle-ci et aussi on y rencontre bien moins de francophone (j'étais la seule étudiante francophone dans ma classe).
De plus l'idée d'être dans une ville à taille humaine pour la Capitale du pays de Galles me plaisait beaucoup.
Il est possible de tout faire à pied (dans cette ville il n'y pas de metro ni de tramway) vous y rencontrez beaucoup d'éspace vert, la jolie baie et à seulement moins d'une heure de la ville vous pouvez être en bord de mer.
– Quelle a été ta leçon préférée (en classe) ou durant les activités extras-scolaires (en dehors des cours) ?
Je n'ai pas eu de leçon préférée, toutefois la seule chose que je souhaite mentionner et que j'ai apprécié tout particulièrement ont été les deux méthodes très distinctes des professeurs que j'ai eu.
Il a été très utile pour moi d'étudier l'anglais de façon différente et variée afin de m'adapter à diverses situations.
– Quel a été ton moment préferé ?
Sans aucun doute, "Halloween Party"!
Pour l'occasion, Celtic avait organisé une soirée dans le pub situé à côté de l'école, nous étions tous déguisés en tenue d'halloween, sauf moi.
Je n'avais pas le temps pour me trouver une tenue, je suis donc venue avec mes vêtements de tous les jours…croyez-moi après 10 minutes dans le pub, l'équipe de Celtic et mes amis se sont chargés de cela.
– Pourquoi-vous recommanderiez Celtic English Academy à vos amis et à votre famille ?
Celtic est une des plus grandes écoles de langues à Cardiff et pourtant on y sent chez soit.
Les professeurs font tout leur possible pour que l'on soit toujours entouré, aidé quoi qu'il arrive.
Durant mon séjour, je me suis jamais senti perdu, mes professeurs étaient toujours là si j'avais des questions après les cours.
En bref:
Je suis arrivée à l'école Celtic avec un niveau très débutant je pouvais à peine dire un mot.
Après seulement deux mois mon niveau a progressé à vitesse grand "V" jamais je n'aurai pu prédire les progrès que j'ai fait en si peu de temps. J'ai débuté avec un niveau débutant pour finir avec un un niveau Élémentaire/pré intermédiaire.
J'ai aussi réalisé que ce séjour n'était pas seulement une expérience linguistique mais aussi une expérience humaine.
Il est normal d'avoir des craintes avant le départ, mais n'ayez pas peur de vous lancer car tout le monde est dans le même cas et on se fait vite des amis.
Les personnes que j'ai rencontré durant ce voyage, les deux amis que je me suis fait sont inexplicables et incroyables.
J'ai aussi eu le chance de séjourner dans la superbe résidence "Lumis" à seulement 15 minutes à pied de l'école. Grâce à la cohabitation avec des personnes du monde entier j'ai fais des rencontres multiculturelles que je n'oublierais jamais.
Pour comprendre cette expérience et ressentir ce sentiment, la seule chose que j'aurai à dire et de la vivre par vous même.
"Vivez et décrivez votre propre histoire".