10th August 2017
This summer season we, at Celtic English Academy had a pleasure to host wonderful students from Intercultura, Italy and AFS Turkey. The group stayed in our student residence in the city centre and followed our summer English language course for young learners. The students had the opportunity to combine English language learning with activities and visits to many exciting places.
Darren, was one of the group's teachers and here is what he has to say about the group:
"It as been a pleasure and a really eye opening experience for me to teach students from all over Italy as part of the AFS Intercultura group here at Celtic English Academy. I was thoroughly impressed and astonished as to their level of dedication, attention to detail, their diligence when completing homework on time and their participation in the classroom. The students were motivated and eagerly contributed to classroom discussion as well as guiding the topics which we covered in and away from the course materials used. As a proud European myself, teaching the Italian students was not only a breath of fresh air, but was a great experience for myself, which encouraged me to develop and engage with the students in fun and interactive ways. Whether learning in the classroom or out of it, I hope to meet them again and wish them all the best in their futures."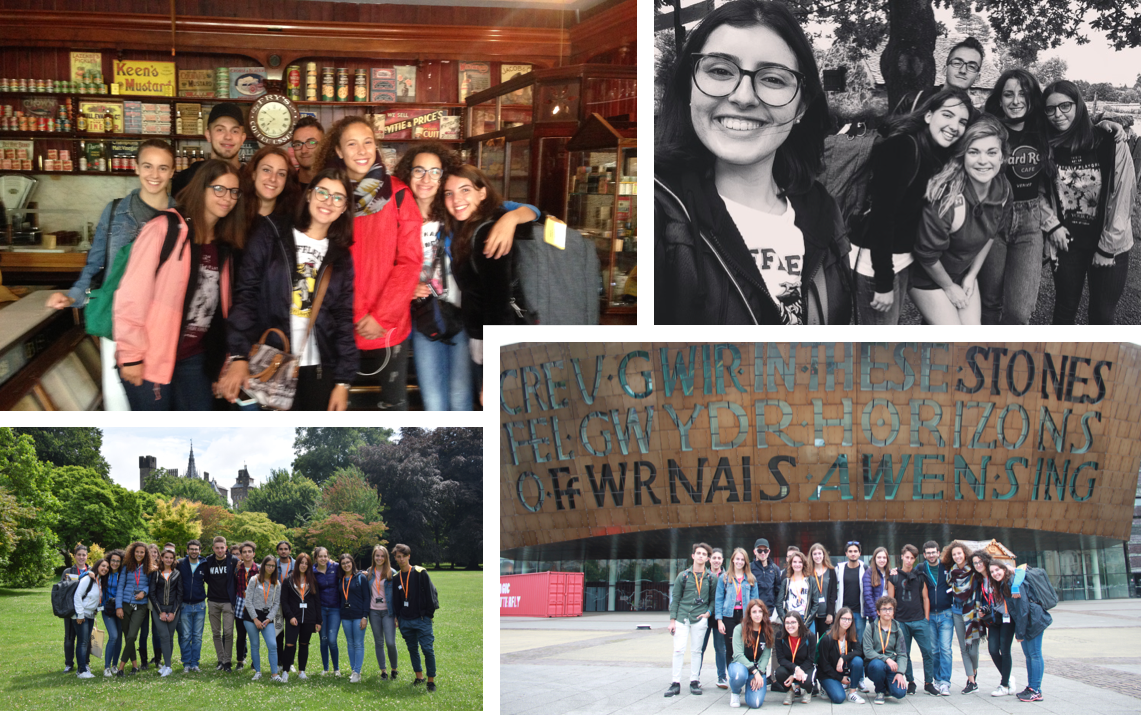 "The classes have been really interesting. We have done lots of activities and I could practice my English. My teacher, Darren was wonderful!" Elisa
"My teacher Darren is fantastic. He made us much more confident in speaking English and his lessons are a great fun." Letizia
"One of the best teachers I have ever had and the lessons were always perfectly organised!" Samuele
"I really enjoyed the activities we have done during this month. They were all different and well-organised." Elisa
"Just WOW! I am very happy with the programme. Superb!" Teodori.
The group had also a chance to take part in many social activities. Ceri was their leader during their time in Wales and although the programme has come to an end, Ceri remembers it like it was yesterday. She enjoyed her time with the group and here is what she says about this experience:
"Where do I begin? We have had the most amazing month that I am sure none of us will ever forget! The Turkish and Italian group have been so much fun, making the most of every single experience and opportunity Celtic had to offer. We loved exploring the Bay together, from the Aqua Bus, The Doctor Who Experience, walking the barrage and eating all the pizza in the International Food Festival … mmm! One of our favourite activities included beach volley ball at Victoria Park and enjoying the sun at the Cosmeston Lake BBQ. The group enjoyed visiting Bath and Oxford (even the Gower in the rain!) and I am pretty sure they now know Cardiff city like the back of their hands! No words can describe how much fun this group have brought to Celtic from canoeing to laser tag, bowling to capture the flag and more importantly cooking AMAZING Italian food! AMO I MIEI ITALIANI!"
Check out some photos of the Italian and Turkish students' time in Cardiff.