29th January 2016
What is Celtic Online?
Celtic Online is your portal to online learning resources, our academy community and any other information you may need during your time here.
You will be able to find your Individual Learning Plan, the monthly social activities calendar and the following resources and facilities: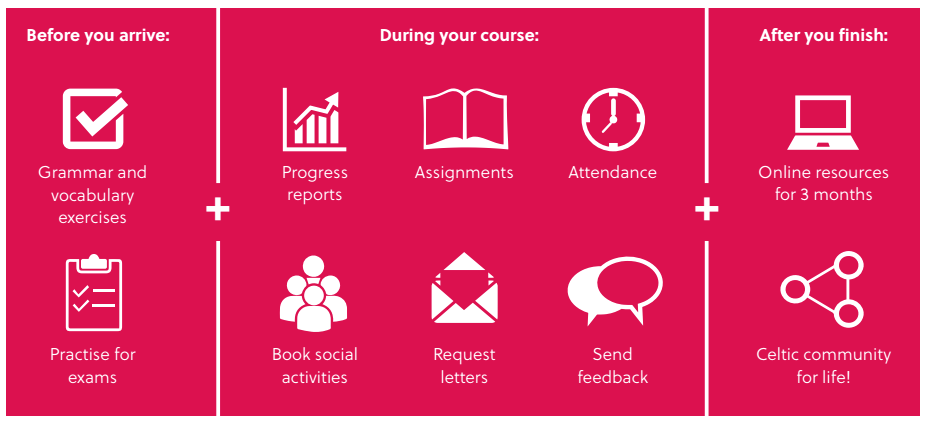 Online Learning Resources
Access our online lessons, called Flash Point, from the time you enrol.

Take an online test before you arrive in the UK and view your personalised study plan so you can start learning right away.

Follow the lessons suggested by your study plan and choose additional resources from our extensive online lesson library, including exam practice.

Complete online assignments and additional work that your teacher may set for you.

The Flash Point lessons are available for all Celtic alumni for 3 months from the last date of your course.
Online Community
Build your own profile, like Facebook, and search for friends at Celtic with similar interests.

Add photos and join groups.

Find students who will start at the same time as you and make friends before you arrive.

Keep in touch with classmates after you finish.
Social Planning, e-Reception and Information:
Find out what activities are happening each week and sign up for the ones you want to attend. (Each event will have maps and web-links for you to check out before you sign up.)

Get information about the UK and life in Cardiff.

Download Celtic information, such as your student handbook and previous Celtic English Academy inspection reports.

Make appointments with staff and make requests for medical, police and bank registration letters.

Meet the Celtic staff: see what responsibilities each staff member has and who to go to if you have a problem.