6th December 2018
The exam tests all four main communication skills: listening, reading, writing and speaking. Take a look at our helpful table which provides an overview of each part of the exam and some of the rules.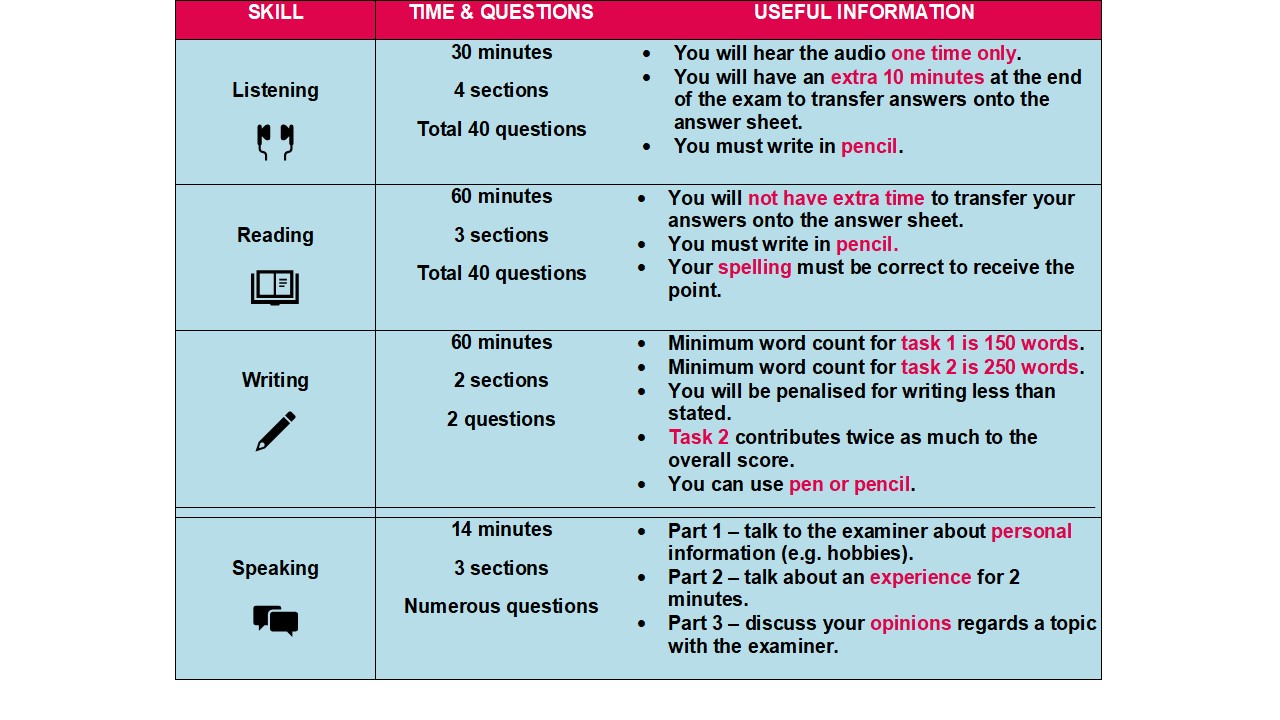 To best prepare for the IELTS exam, our advice is to develop your ability to understand and use English. Immerse yourself in English as much as possible outside the classroom. Even though this is the Academic version of the exam, the key to success is developing your awareness of the English language itself since exam strategy can only take you so far.
Reading: there is a lot to read as each article is typically 700 to 850 words long. So try focusing on improving your reading skills: being able to read quickly to get a general understanding; being able to scan a text efficiently to locate specific information. By regularly reading books, newspapers, magazines, journals, articles, blog posts you will develop your reading speed and vocabulary range. The best thing is to read something that you enjoy, so that learning is fun, and you remain motivated.
Listening: the most difficult aspect is that you only have one opportunity to listen to a recording. So, if you miss one answer it is possible to panic and lose your concentration. By listening to podcasts or watching short extracts of films in the English language you will get used to native speaker pronunciation and the speed of normal speech. Try to be disciplined with yourself: listen once and note down everything you can remember before listening again to check.
Having a wide range of vocabulary can also help, so try to build up a personal vocabulary note book as you come across new words and phrases. When you record new words in your vocabulary note book, try to avoid translating or writing single words – instead write definitions in English and example sentences in a range of grammatical tenses. It's also really good to write down what type of word it is e.g. a noun or a verb and to keep a list of synonyms (words which have the same or similar meaning) as this will really help.
Speaking: this part is NOT academic, so our advice is to speak as naturally as possible, imagine you are having a chat with a friend. The range of topics is quite broad – don't worry you don't have to be an expert; just give your reaction to the topic you are given or the questions you are asked. The Academic version of the IELTS test typically bases its questions on the social sciences, so you could prepare by becoming more familiar with language connected to the environment; the world of work; technology and changes in society.
Writing: your ability to write accurately in a formal style of English is important. So, make sure that you use clear paragraphs, punctuation, and formal linking expressions. Task 1 presents you with numerical or graphical data that you must summarise, so our advice is to take your time to understand what is presented before beginning to write. Task 2 in essence is very similar to Speaking part 3 as you need to provide your reaction to a given topic. To showcase your ideas and level of English, we suggest planning your ideas before picking up your pen. Note your opinion, justify it with some examples and hypothesise what the probable results will be.
For our students who are taking IELTS tests currently – Good Luck!
To our students who are preparing for the test – Keep practising, stay motivated, you can do it!
If you have any IELTS tips or comments, let us know.