3rd August 2019
Our Academic Intern, Gabby, loves to picnic in the summer.
She tells us more about how to create the perfect British picnic, where to go in and around Cardiff for the best picnic locations and the foods you can try.
Do you have any recommendations for different picnic locations, or some picnic foods from your country? Leave your ideas in the comments! 
The Great British Picnic
Picnics are an absolute summer essential for many British people. In fact, picnics are so popular that the average person picnics at least three times a year, that's 94 million picnics per year! But what is a picnic? A picnic is a meal taken outdoors (al fresco), usually as part of an outing. Ideally you would have your picnic in a scenic location, such as a park, the beach, or somewhere with a nice view. Cardiff is an excellent place to have a picnic thanks to its extensive range of green spaces and its close proximity to the coast. In this blog post I'm going to give you a couple of ideas so that, whilst you're in Cardiff, you can enjoy a traditional British picnic.
One of the most important things to consider when having a picnic (other than the weather!) is the location. Here are some of the best places to picnic in Cardiff:
Picture: Bute Park in Spring. 
Bute Park
Bute Park is comprised of 130 acres of landscaped gardens and parkland that once formed the grounds of Cardiff Castle. Bute is very beautiful and the perfect location for a picnic. It's very close to the city centre and is also home to The Secret Garden café if your picnic doesn't quite go to plan! Bute is just one of the many parks in Cardiff. Roath park is also an excellent park to visit.
Picture: Students enjoying Celtic's annual BBQ at Cosmeston Lakes.
Cosmeston Lakes Country Park
Celtic English Academy holds its annual BBQ at Cosmeston Lakes. It's always a huge success thanks to the staff, the students and the excellent location. Not only is Cosmeston great for a BBQ, it's also great for a picnic! It provides scenic views of the lake and a peaceful surrounding in where you can enjoy great food and great company.
Barry Island
Barry Island is a charming coastal town only a thirty-minute drive from Cardiff, or it is easily accessible by either bus or train. Its long sandy beaches and array of arcades make it an excellent picnic location for all ages. In the summer, Barry is a hub of activity so you could not pick a better time to go than now!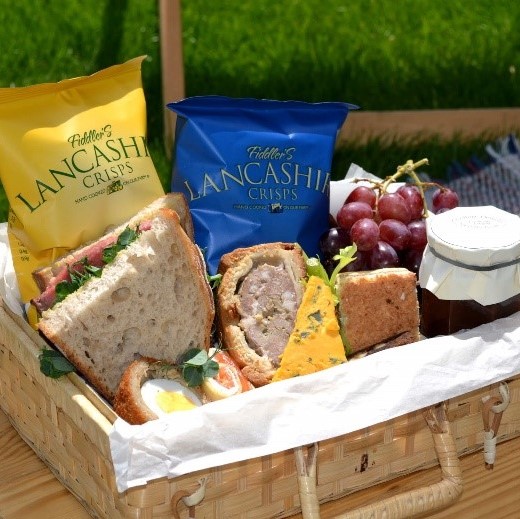 Picnic picture taken from: https://www.abouttimemagazine.co.uk/food/top-10-picnic-hampers-in-london/
What about the food?!
You've found the perfect location; you've chosen the best day with the sunniest weather; now all you need is the food! Picnic food tends to be cold, and usually involves sandwiches, finger food and salads. Some traditional British sandwiches are egg and cress, chicken or ham salad, cheese or roast beef. Along with these types of sandwiches, to create your traditional British picnic, you would also need lots of sausage rolls and scotch eggs (eggs wrapped in sausage meat, coated in breadcrumbs and fried), potato salad, quiche, crisps, pork pies and coleslaw. To make your picnic a little bit healthier, some fresh fruit such as grapes and apples. Finally, for dessert strawberries and cream, or maybe a slice of Victoria sponge cake.
Bring your Pimms, lemonade or tea, your bug-spray, a ball or a frisbee and some blankets and pillows but remember don't leave any rubbish or use single-use plates and cutlery. It is so important to keep these beautiful green spaces and beaches clean and rubbish-free. There are endless possibilities for a picnic in Cardiff, so make sure you make the most of it this summer.