25th January 2017
You don't have to wait till St Valentine's day to be romantic, instead you can wish your loved one 'dwi'n garu di ' (I love you) three weeks earlier.
Every year, on 25th of January, people across Wales celebrate St Dwynwen's day. It is a Welsh version of St Valentine's day- the most romantic day of the calendar. But who was St Dwynwen? Here is all you need to know about out patron saint of lovers.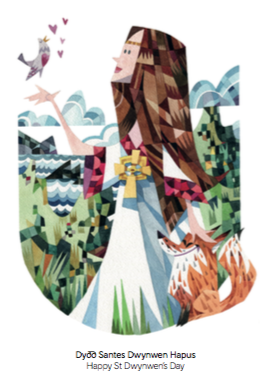 Who was Dwynwen?
Dwynwen was one of the prettiest of King Brychan Brycheiniog's 24 daughters back in the 4th century. Dwynwen fell in love with a prince called Maelon Dafodrill, but unfortunately her father had already arranged for her to marry someone else. Dwynwen was so upset that she could not marry Maelon that she asked God to make her forget him. After falling asleep, Dwynwen was visited by an angel, who appeared carrying a sweet potion (drink) designed to erase all memory of Maelon and turn him into a block of ice. God then gave three wishes to Dwynwen. Her first wish was that Maelon be free from the ice; her second that God meet the hopes and dreams of true lovers; and third, that she should never marry. God agreed to all her wishes.
Dwynwen later moved to Ynys Llanddwyn – a small island off the west coast of Anglesey in north Wales. After her death she became the Welsh Patron Saint of Lovers and ever since, Welsh lovers have looked to St Dwynwen for her help in finding their true love.
How do people celebrate St Dwynwen's Day?
As on Valentine's day, people exchange cards, gifts, spend time together, go for a meal or take long walks.
You don't have to be Welsh to celebrate St Dwynwen's Day. Why not send a beautiful illustrated card to your sweetheart? Here is where you can download it and print for free.
We would like to know what you're doing on the most romantic day in Wales.