20th August 2015
Last week Celtic English Academy students had a day to remember as our teacher Joanna rounded up her class on a beautiful sunny day to visit a very interesting and unusually presented tour of one of Wales's finest historical sites. The incredibly well preserved Manor House of Llancaiach Fawr located in the Welsh valleys.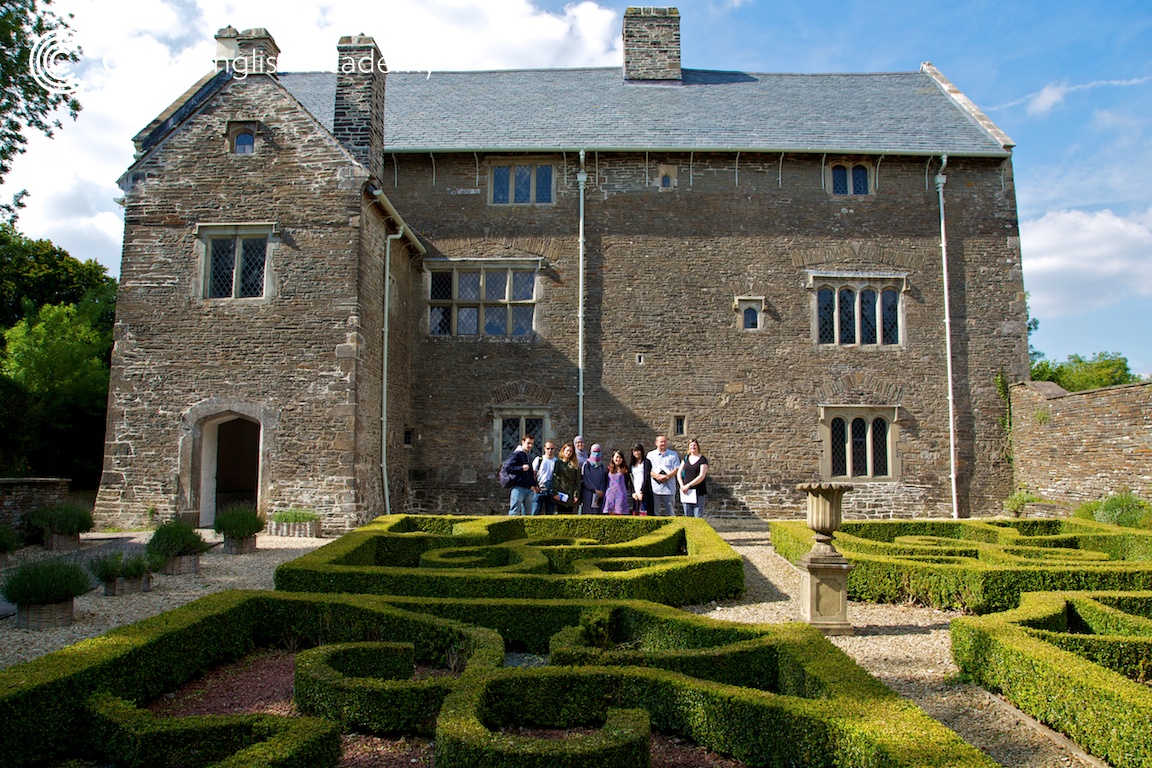 Llancaiach Fawr is a Grade One listed Manor House that has been restored and furnished according to its original use and appearence during 1645. Visitors will now encounter live role-playing interpreters portraying the household staff during the time of the Civil War.
The interpreters are historical experts trained in the interpretation of people working in the manor during the 16th Century. Our students tried everything to get these characters out of their role's with modern day questions and requests, however nothing seemed to distract the dedicated team.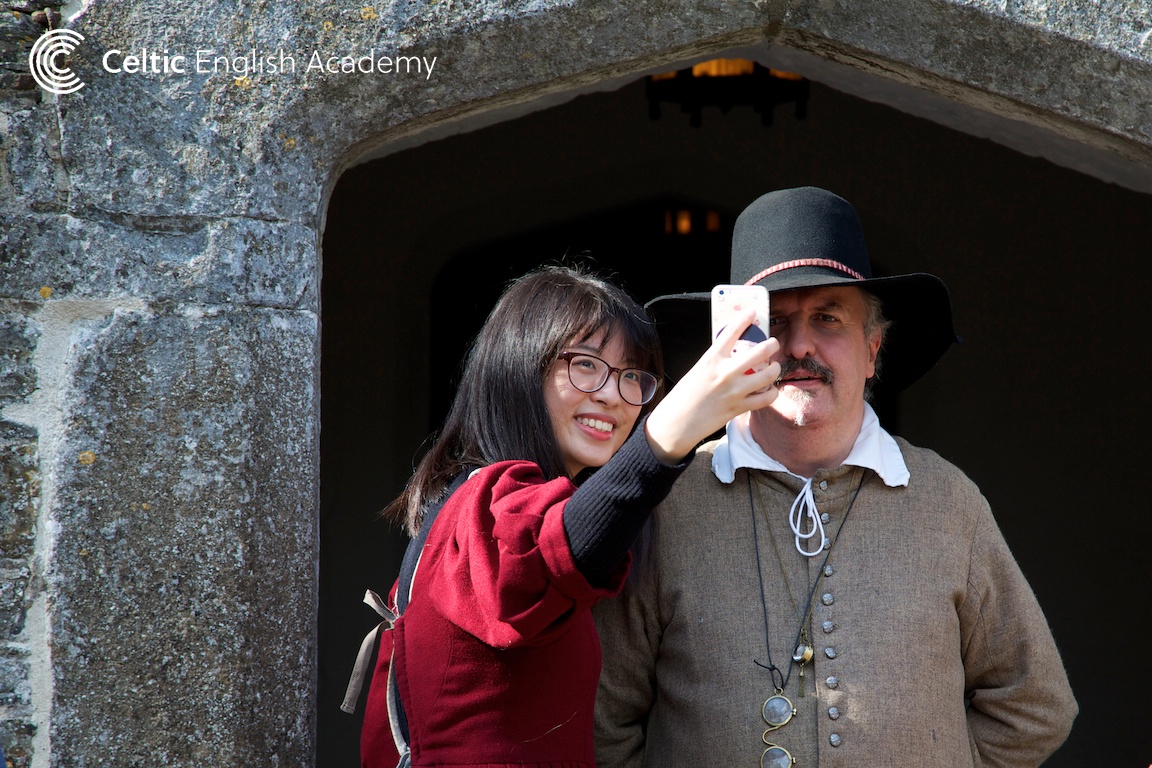 The characters encountered cannot see past the year of 1645, bring history alive, and provide an unforgettable Museum Theatre experience with their fantastic wealth of knowledge. The Manor was owned by Edward Prichard who was one of the most powerful men in Glamorgan, being a landowner, a lawyer, Justice of the Peace, and a Commissioner of Array for His Majesty King Charles.
Whilst in the moment, the Master will offer protection and hospitality via his servants, who will attend visitors and provide guidance about his fair house and and speak of their experiences and their lives in the house during this most horrid Civil War. Fortunately Llancaiach is far removed from the distractions of War, and all visitors are assured of a safe haven and pleasant discourse during their visit.
Meanwhile some of the students got so lost in the moment that they got dressed up in period clothing found in the exhibition room and explored the gardens dressed as in attire of that era. Although women of that time were looked upon as lesser beings in such a male dominated era, which is expressed in the tour, it didnt stop our female students thoroughly enjoying themselves.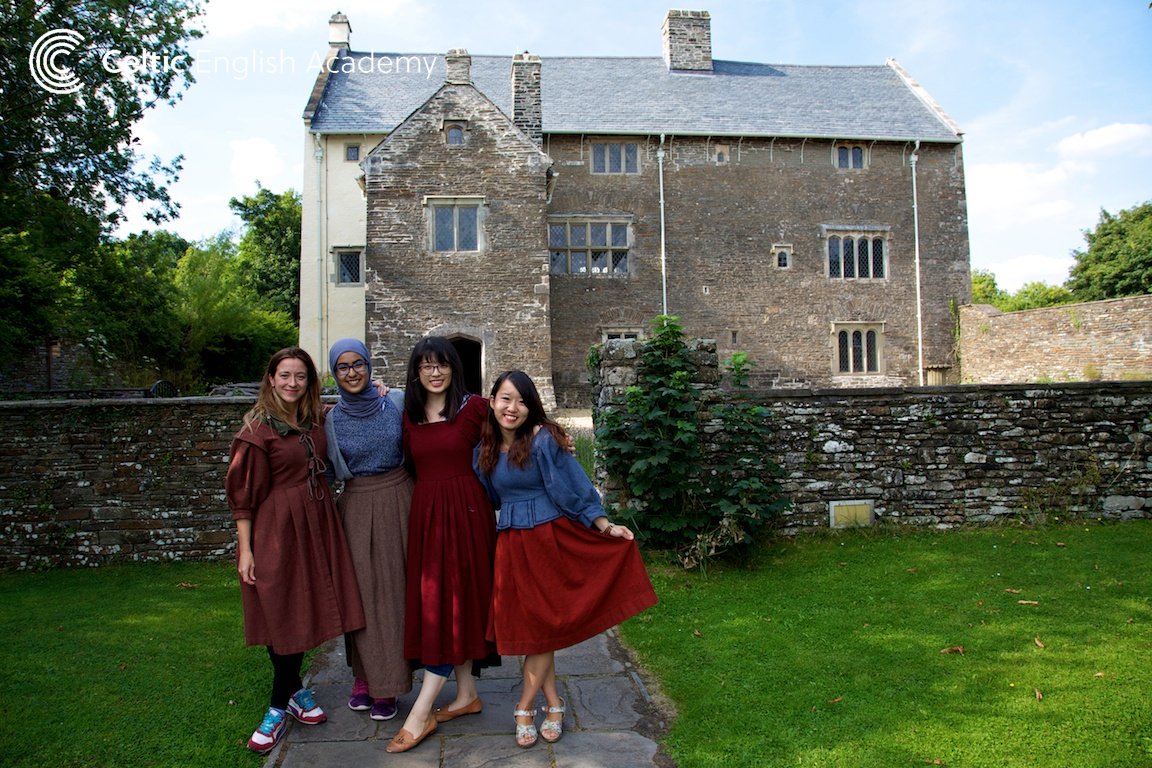 Once darkness falls, the real residents of Llancaiach Fawr Manor make their appearance. Touring in search of the ghosts that remain here is a popular tourist attraction during the winter months. Stated by paranormal investigators, Llancaiach Fawr Manor is one of the most atmospheric and eerie houses in the area.

After such a vivid flashback to 1645, getting back into the Celtic English Academy minibus was like stepping into a spaceship as we went back to the future in Cardiff 2015. What a fabulous visit it was.
For more information of Llancaiach Fawr Manor House, please see the link below:

http://your.caerphilly.gov.uk/llancaiachfawr/content/welcome-llancaiach-fawr