11th October 2018
At the end of September our Worldbridge Japanese students enjoyed a historical adventure exploring Cardiff Bay. The students began their visit with a meal at their favourite restaurant… Wagamamas! After they filled up on green tea and ramen noodles their interesting walking tour began…
Pierhead
First a visit to Pierhead, one of the most gorgeous buildings in Cardiff Bay. Here the group went back in time to learn about when the Cardiff docklands were the world's greatest exporter of coal. Who knew Cardiff Bay was where the first ever one million pound cheque was signed?!
Norwegian Church Arts Centre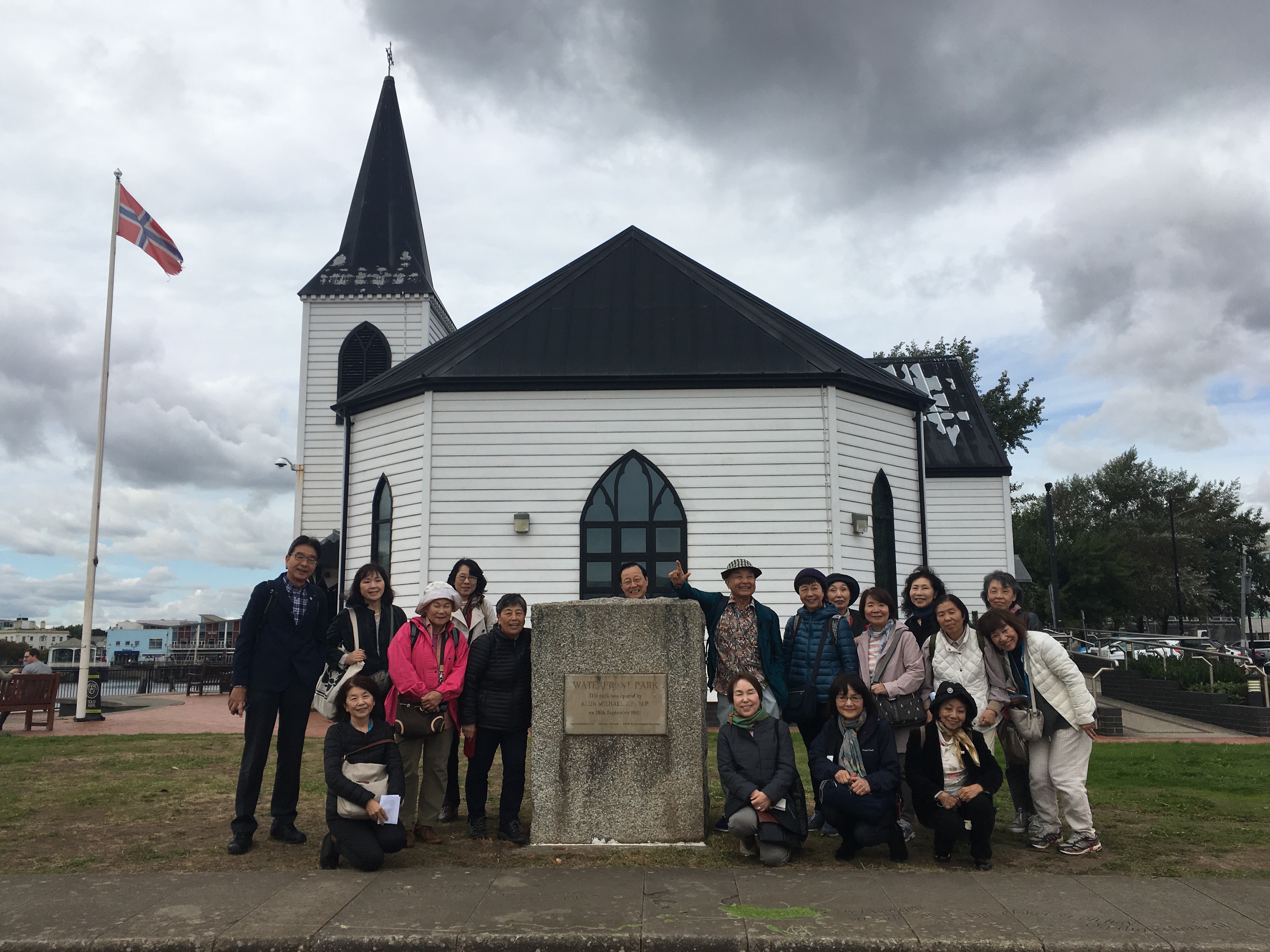 After discovering Cardiff's key role in the coal-fuelled industrial revolution the group moved on to a Scandinavian scene. They visited the Norwegian Church Arts Centre, a former church for Norwegian sailors. Whilst standing outside the church they scanned the breath taking panoramic Bay views. The students also discovered Japanese writing carved into surrounding stone. Finally, a tale of the infamous Captain Scott and his deadly voyage to the South Pole was told next to his memorial sculpture adjacent to the Church.

National Assembly of Wales
Next a tour of the Senedd, the National Assembly of Wales. The artistic building was created using traditional Welsh materials including slate and Welsh oak. The sustainable building was opened in 2006 to mark the start of a new era in Welsh politics and governance following devolution from Westminster. The Senedd represents democracy and a new long-lasting Wales; it is here elected Assembly Members represent the interests of the people of Wales when new laws are made.
Wales Millennium Centre
Finally, a visit to the Wales Millennium Centre the home of Welsh music and culture. The group appreciated the amazing architecture and experiences within the centre. The students even booked to attend and enjoy the Welsh National Opera performance of La Traviata.
Transport
Overall, it was a fantastic trip filled with lots of facts and fun. Everyone agreed that one of the best parts about visiting Cardiff Bay was how easy it was to get to. You can take the bus, boat, train, or walk to get there from Cardiff City in under half an hour! Click on the links for information on the routes you can take: Bus, Train, Walk or Boat.
Additional Information
If you would like to explore Cardiff Bay please ask Glesni or Chelsea on reception to provide you with more details, opening hours for sites of interest and a local map. For more information about events and festivals, visit Cardiff's website.
---
Read more
{{cta('3adf6974-b2c6-4930-953a-afafab7f1497')}} {{cta('dd1c381c-b518-48ba-8c5a-4d0fdc47d475')}}