1st November 2018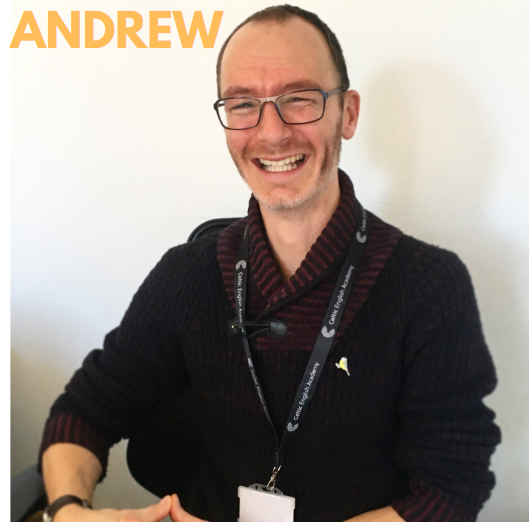 #5wondersofCardiff challenge…
During November visit five of Andrew's favourite places to eat and explore in Cardiff. Take a selfie when you visit each place and tag Celtic English Academy on twitter, facebook or insta and use the hashtag #5wondersofcardiff . If you complete the challenge show Chelsea, our new Student Support Officer, your photographic evidence and you will enter a draw to win a free place on our next trip!! ?
All about me!
Name: Andrew
Nationality: English/British.
Languages: English alongside bits of French and Spanish!
Travel experiences: I have travelled around most of Europe, in fact when I studied French and Russian in University I studied for half a year in both countries. I have taught in Seville in Spain and travelled through Central and South America. I have also spent time in Shanghai and Turkey with my role at Celtic English Academy. I found it interesting to see how the support staff connect with international markets.
Three fun facts about me:
I play the repinique in a local samba band!

I love birds, my current favourite is a magpie.

I am the only Andrew Bodgin in the WHOLE WORLD!
Life at Celtic English Academy.
Job Role: Senior Teacher.
Background: I moved to Cardiff six years ago to study a masters at Cardiff University. Whilst completing my studies a friend told me about Celtic English Academy. I had previously worked for four years as an English teacher so Celtic matched me perfectly.
Typical week at Celtic: There is no typical week! However, I usually start Monday helping to test new arrivals. I spend most of my time teaching, I teach most programmes, including the junior and IELTS courses and I even teach teachers. Some of my days are spent doing administrative tasks such as creating timetables, making resources and marking work.
Where you will find me: I am either in the Academic Office, a classroom or in the staff room.
Favourite part of my job: I love being part of the cultural melting pot at Celtic. I really enjoy meeting students from all over the world – without having to leave Cardiff!
Best moment at Celtic: I raised £1500 for Cardiff Food Bank by doing a sponsored fast during Ramadan. I broke fast in Dar Ul Isra Mosque, just around the corner from Celtic. I did so amongst friends, staff and students which was a wonderful experience.
Where to go and what to eat in Cardiff ??️ ☕

Where I eat my English/Welsh breakfast: Pen y Lan Pantry.
Favourite Cardiff coffee shop: Hardlines and Brodies.
Best place to eat lunch in Cardiff: Secret Garden Café in Bute park.
Favourite Cardiff bakery: it's got to be Nata & Co!
Best place to eat dinner in Cardiff: La Cuina, a Catalan restaurant.
The most delicious Sunday Roast: The Crofts pub carvery is great! So much veg, meat and gravy for £7.50. They even have a dog, a cat and a grey parrot there AND the football is played on silent.
Favourite place to have a drink: Dead Canary, so cool.
Best Cardiff park: Bute park, it's awesome.
Words of wisdom for new students ?
In your first week make friends with people who do not share the same first language as you. Go and meet for a coffee or a drink and do so regularly.